The Pandora Series
The Pandora Series
I've written a number of books that feature 'Pandora's Box', a former shopping mall turned fantasy-fulfillment center. Each book is designed to stand alone, but if you wish to read them in order, here's what I suggest:
Pandora 2011: Accounts of the Cursed Shopping Center
Grim Accounts
A dead shopping center has become a unique stretch of real estate, an environment where visitors live out their most intoxicating fantasies. Yet behind the excitement, beneath the raving, grows a mounting feeling of alarm. As guests go missing, even the tour guides are creeped out. This novella-sized compilation features reworked tales from the series's creator and original short stories by Jay Ceron, Katherine Lato and Stephen Owen.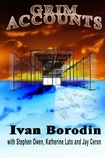 Pandora 2014: Blood Drive
Tour guide Dina Watson, having witnessed one too many tragic visits to the Box, decides that enough is enough. Intent on changing Pandora Tours for the better, she demands a complete overhaul of the office and its policies. Can her newfound resolve hold up against the barrage of Pandora's trademark mayhem?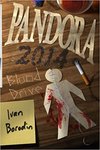 Pandora 2011: Accounts of the Cursed Shopping Center
Each person has their own brand of magic. When one steps inside Pandora's Box, the events of the day are inspired by the longings and unattainable desires within an individual. Natural laws get tossed out the window. The problem is, those who visit often bring their questionable lusts with them. Can the haggard and beleaguered guides protect such tourists from themselves?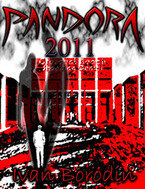 Lost Art
"Pandora's Box" is a shopping Mall where visitors have a chance to live out their wildest fantasies—and sometimes rekindle romance. Vladimir and Alison were once in love. He left. She went mad. He returns and the only way to convince her of his sincerity is to take her into the magical storm known as the Box. Sebastian Unger is their tour guide and our narrator. He's just hoping to get through the tour without anyone getting killed—including himself.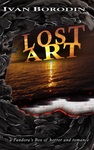 Pandora 2012: Southern Belles
The women of the Carolinas take center stage. Sheriff Valerie tries to drink away her guilt. A state inspector's composure erodes as she is sucked in by the magic of Pandora. Dina spends the year in search of her missing man.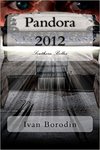 Pandora 2013: Hullabaloo
The former Crescent Beach Mall of South Carolina is a magical epicenter known as Pandora's Box. Visitors catch glimpses into their fantasy world, but often not as expected, for their own moral compasses and guarded secrets dictate the terms of their encounters.

Sebastian, Larry and Dina are veteran tour guides who understand the Box offers a falsely romantic recipe for disaster. The trio push themselves through their work, keeping their heads down and trying not to ask too many questions.

2013 turns out to be the year of crazy. The illusion of Pandora is exposed as an endless loop of maniacal persecution. As tourists yowl in terror, the guides snap, fearing they are unequal to the task of managing the growing mayhem.